The Managers'
Zero ⭕️  → 🟢 OKR
Deployment Playbook
Build an operating system that transforms strategy to excellence in 12 weeks
⭐️⭐️⭐️⭐️⭐️
Tested & validated in 70+ OKR cycles in 8 years by other frontline managers like you.
Zero ⭕️ → 🟢 OKR Excellence
Every step and tool you need to design & build an OKR system 
Practice
build confidence by doing it yourself
Influence
partner with your boss & peers
Just enough theory
A complete set of tasks
Per-task progress checklist
Interactive workbook
Digital whiteboard
Embedded tracker
The Deployment Playbook is a customisable OKR implementation template, a companion Miro template and crucial tracking tools.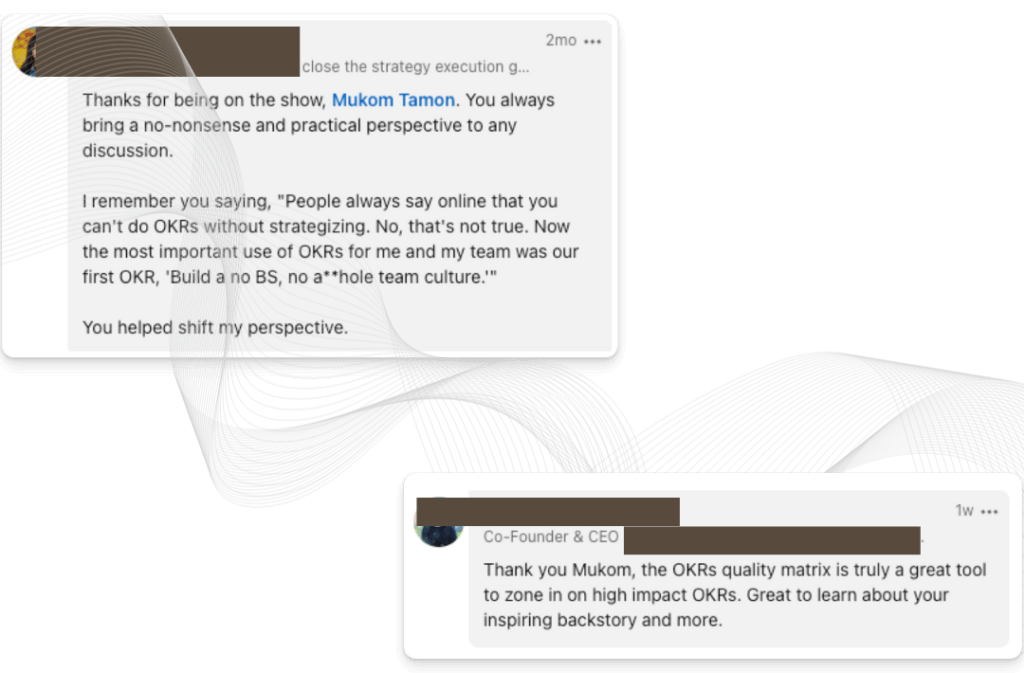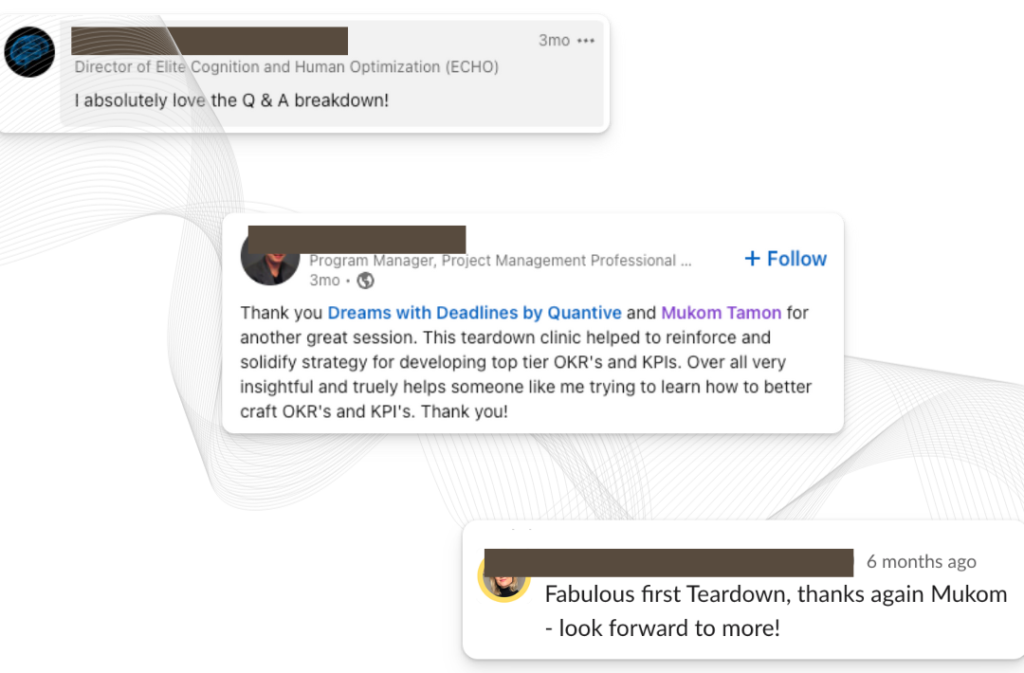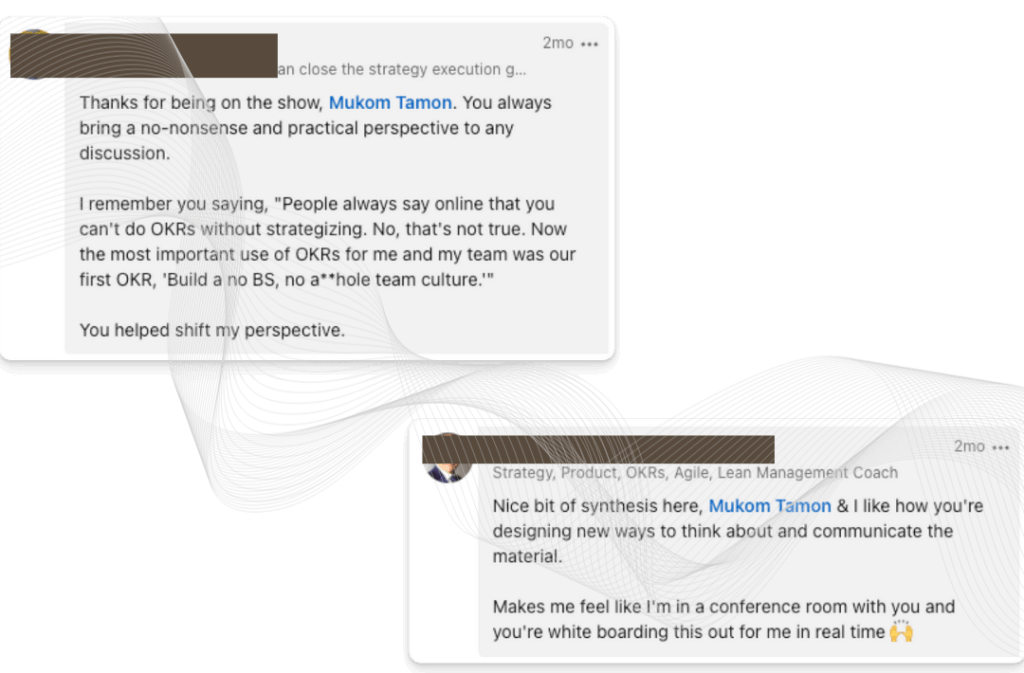 ⭐️⭐️⭐️⭐️⭐️
Tried and tested by hundres of managers in 50+ industries.
from Zero ⭕️ → 🟢 OKR Excellence
with full confidence using the S.P.A.N system
1 | Setup
Capture your team's Value Engine and your crucial metrics on a single page.
2 | Prioritize
Create 1 OKR which measures what really matters, aligns with strategy & your team's capabilities.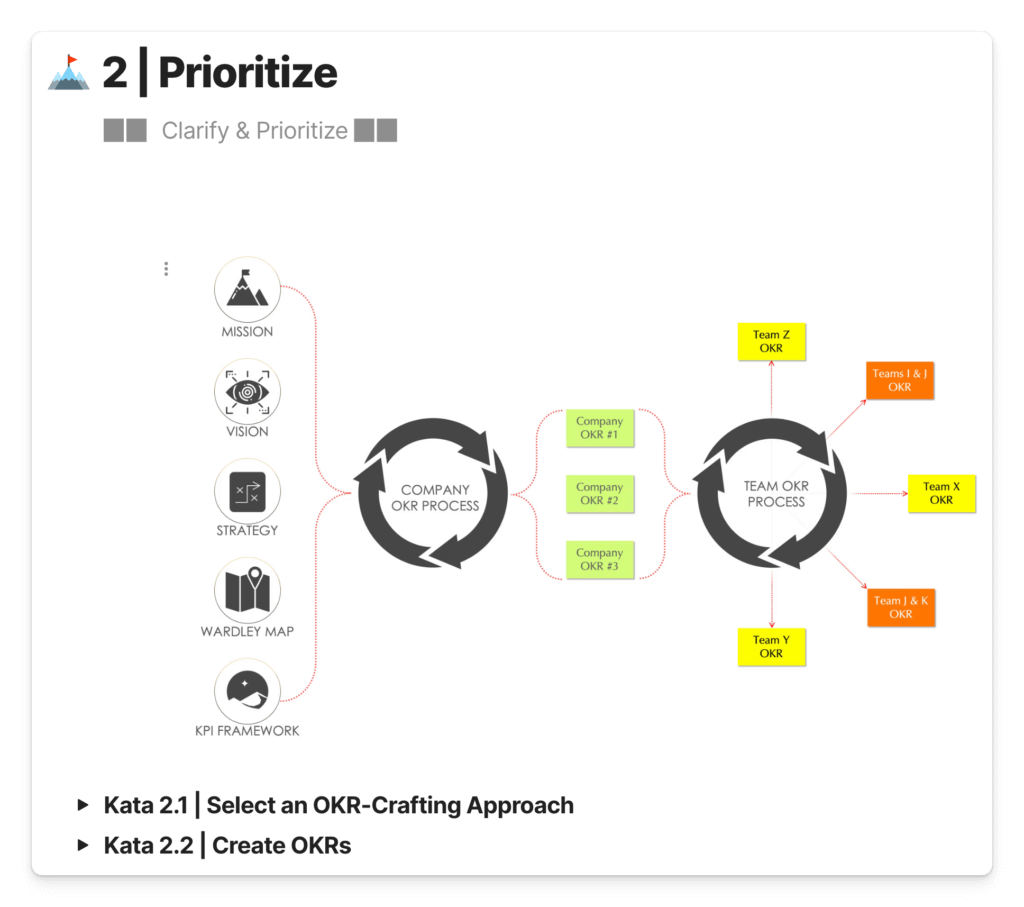 3 | Activate
Craft a unique delivery system for your OKRs so your team can with through skill & effort, not luck.
4 | Nurture
Integrate OKRs into your team's tools & systems and culture i.e. leading with OKRs
⭐️⭐️⭐️⭐️⭐️
Eliminate doubt & uncertainty. Be confident in your next steps in translating strategy into results through your team.
Every tool you need to get OKRs Right
How do you create OKRs that matter to your team?
You'll use the SIPPR Canvas:
Your team's value engine, on a single page. Never start OKRs without this.
How can you tell if your OKR measures what really matters?
With the OKR Quality Matrix.
Instantly measure the quality of your OKR and know how to improve it.
How will you avoid nasty surprises in delivery?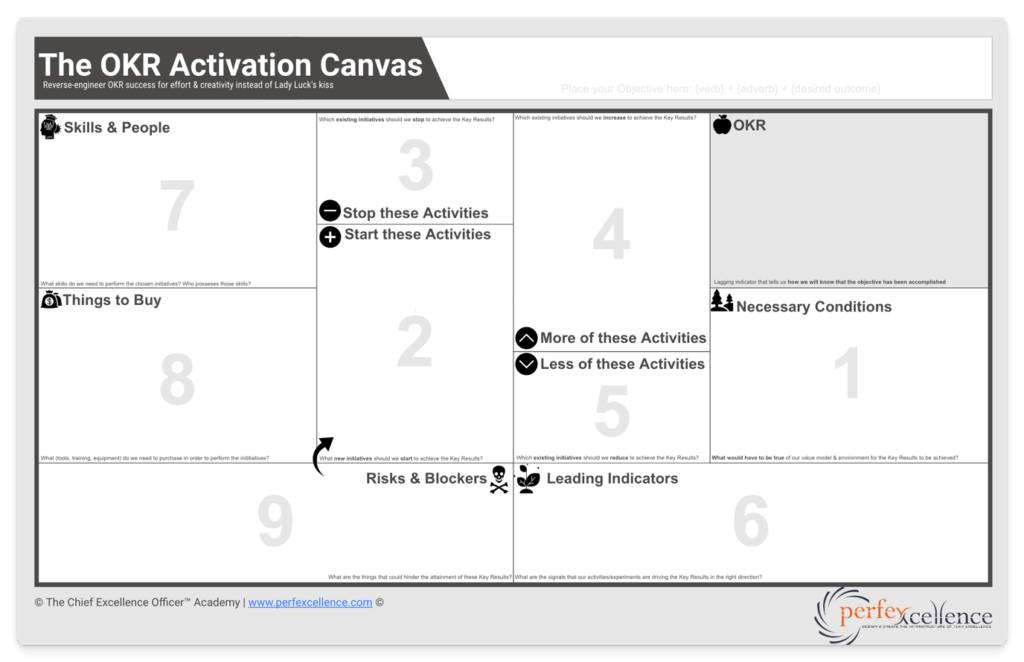 You'll use the OKR Activation Canvas:
Build a unique OKR-delivery system to protect your team from "Set It & Pray" syndrome.
How do you engineer collaboration?
You use the Bet Canvas:
The 1-page minimum viable project planning.
⭐️⭐️⭐️⭐️⭐️
Elegant 1-page tools that clarify your path from Zero ⭕️ → 🟢 OKR excellence.
Ready-made OKR workspace
20% learning | 60% doing | 20% influencing
⭐️⭐️⭐️⭐️⭐️
A digital whiteboard OKR workshop map,
just bring in your team, follow the instructions and co-create magic.
Who is this Playbook for?
This playbook is for
any MANAGER,
who DIRECTLY leads a team,
and wants to build a no-bullshit OKR system.
"We don't rise to the level of our OKRs, we fall to the level of our OKR system."
This is NOT for
individual contributors.
project managers.
What's included in this playbook?
The OKR Playbook Coda app.
The OKR Toolkit Miro template.
The Zero ⭕️ → 🟢 OKR email course.
All based from practical experience and lessons from 34 cycles of OKR implementation experience over 8 years.
How does the app work?
On purchase, you'll receive two links:

The OKR Playbook Coda document.
The OKR Tookit Miro board.

Follow the step by step instructions in the Playbook & the Toolkit.
If you get stuck, get help from a real OKR expert within 48 hours.
Note:
You'll need free Coda.ai & Miro accounts.
In-app help is available for 12 weeks after purchase.
What is a kata?
A "kata" is a structured way of doing things or practice.
It comes from  Japanese martial arts where learners spend much of their time practicing drills to improve specific moves and through repetition the correct technique ingrained in muscle memory until it happens by reflex. 
The OKR Deployment Playbook consists of a set of such practices that any manager can take their team through and after 2 – 3 cycles achieve effortless excellence in OKRs.
But my boss hates OKRs!
Does your boss like to see results?
Does your boss like to see happy customers?
Does your boss like to see a highly engaged team?
Does your boss like to see a much-loved product or service?
If your boss doesn't like those things, this Playbook won't help you. Find a new boss.
If he does, then this Playbook will make him an OKR fan.
When I first implemented OKRs (also 4DX and Lean Six Sigma before that), I didn't ask my boss's permission. I just did it and my team's results made him get the rest of the company aboard.
Does this help me secure my team's buy-in?
Yes, the Playbook is is designed to be used with your team.
It will guide and prevent you from committing the 3 deadly rookie mistakes that make teams hate OKRs:
Creating OKRs for your team.
Not activating OKRs i.e. "Set and Pray".
Not knowing where NOT to apply OKRs.
The "Lead" part of  the
Learn → Practice → Lead → Influence 
drill used in the Playbook is all about your team.
Will this work for performance appraisals?
No! it won't
No!! It shouldn't
You should NOT use OKRs to set individual performance objectives. In this program, you will learn how to make OKRs play with your performance evaluation system without crippling them.
Does this cover OKR software?
If this you're just starting with OKRs,
You don't need OKR software
You don't need to change existing tools
The software is the easiest part of OKRs … after you get the foundations right, which I guarantee you will after you complete this Playbook.
Here's how the Playbook helps you
It contains a simple but powerful OKR tracker for your first and second cycles.
It contains the OKR Quality Matrix which no software or app has.
The "OKR Systems Integration" play will help you formulate exactly when, and how to select and use various tools into your OKR system.
Investment
Pay the price of a lunch, get 1000X the value 
Odin
Playbook

Email course

In-forum Support

Email coaching within 48 hours

OKR Deployment Toolkit Miro board

45-minute 1:1 coaching clinic ($250 value)
Thor
Playbook

Email course

In-forum Support

Email coaching within 72 hours

OKR Deployment Toolkit Miro board

1:1 implementation coaching clinic
Vidar
Playbook

Email course

Access to Discord channel

Email coaching within 72 hours

1:1 implementation coaching clinic

OKR Deployment Toolkit Miro board
Hi! I'm Mukom
In 2015, as a frontline manager just like you, I introduced OKRs to my team.
without seeking my boss's permission.
without a consultant or coach.
without OKR training.
After 30+ cycles, I've used OKRs to
create an e-learning program used by 4700+ engineers from over 80 countries each month with an NPS of 47.

invent the

Deployathon

, a direct assistance program used by 150+ network operators from 37 countries.
transform my team into the company's model for operational excellence & customer obsession.
I believe that effective managers are an organisation's most potent competitive advantage. These are managers who consistently:
Translate strategy into excellence.
Run efficient customer-centric processes.
Build teams that practically "manage themselves".
I call such managers Chief Excellence Officers and I founded the Chief Excellence Officer® Academy to transform 10,000 managers into Chief Excellence Officers in the next 10 years.
If this is the kind of manager you wish to become, this Playbook is your first step. Join the movement.
⭐️⭐️⭐️⭐️⭐️
"Every choice you make is a vote for excellence or mediocrity.
What will you choose today?"